Product overview
SF6 gas insulated ring main unit is the company's introduction of foreign advanced technology, modular design, with its fixed and flexible expansion of the perfect unity. Nxring-40.5 series inflatable switchgear has the characteristics of compact structure, full insulation, long life, maintenance-free, small footprint, various solutions, strong expansibility, safety and environmental protection, not affected by the environment, which can be widely used in industrial and civil ring network and terminal power supply network. It is especially suitable for small secondary distribution power stations, open and close stations, industrial and mining enterprises, airports, railways, highways, subways, commercial areas, living quarters, wind power, photoelectric and other fields. Switchgear is fully enclosed, maintenance-free, small size, excellent performance, safe and reliable, long life, maintenance-free characteristics, welcomed by users.
Product advantage:
Application in plateau area: SF6 gas insulated ring main unit, full insulation characteristics, without considering the influence of pressure difference between inside and outside the gas box.
Unit assembly: convenient for user expansion, scheme change and interloop switching.
Distribution network automation application: It can cooperate with all automation terminals in the market to easily realize distribution network automation.
Application in coastal areas: fully sealed mechanism and long-term salt spray anti-corrosion treatment, to ensure long-term safe operation of equipment.
PT cabinet replacement application: PT cabinet with isolation function, can realize online replacement.
Application in strong sandstorm area: the mechanism is sealed, the primary circuit and bus are fully sealed, and the control circuit adopts special sealing strip for cars to ensure the long-term safe operation in strong sandstorm area.
The units can be freely combined to realize different schemes
Product features
Modular design, each unit module can be arbitrarily combined and expanded without charging and draining, easy to combination and high pressure metering design, a wide range of applications. SF6 gas insulated Ring Main Unit fully insulated circuit breaker inlet and outlet cabinet (vacuum arc extinguishing), load switch inlet and outlet cabinet, busbar cabinet, metering cabinet, load switch-fuse combination electrical cabinet, and TV cabinet (with switch or without switch) combination scheme can be divided into single unit, two units, three units, four units and other compact combination, It provides a broad application prospect for SF6 fully insulated ring network cabinet or multi-loop power distribution cabinet.
The cabinet body is armored structure, there are metal partitions between the bus room and the switch room, and between the switch cabinet and the cable room. The primary protection level of the fully insulated structure can reach IP67.
The load switch with three stations is welded in the sealed stainless steel shell of SF6 gas, the air tightness is very good, the gas consumption is less, can ensure 30 years of air leakage, meet the requirements of environmental protection, both suitable for indoor and outdoor configuration of metal or non-metal shell, or into the underground, semi-underground substation use.
The operating mechanism adopts CORROsion-resistant metal, the bearings of the rotating part are self-lubricating design, the products are not affected by the environment, exempt from regular maintenance, and convenient connection with the outside world, so that the operation work is small, high reliability, longer life.
The extension bus is equipped with plug type silicone connectors, fully insulated and shielded to ensure conductive reliability and not affected by the surrounding environment. The combination connection and extension is convenient, which is convenient for the future users or the substation capacity transformation.
Using the environment
Air temperature: maximum temperature: +40°, minimum temperature: -20°;
Temperature: monthly average temperature 95%, daily average temperature 90%,
Altitude: Maximum installation height: 2500 meters; (Customized for higher altitudes)
No inflammable, explosive, serious pollution, chemical corrosion and violent vibration.
Main technical parameters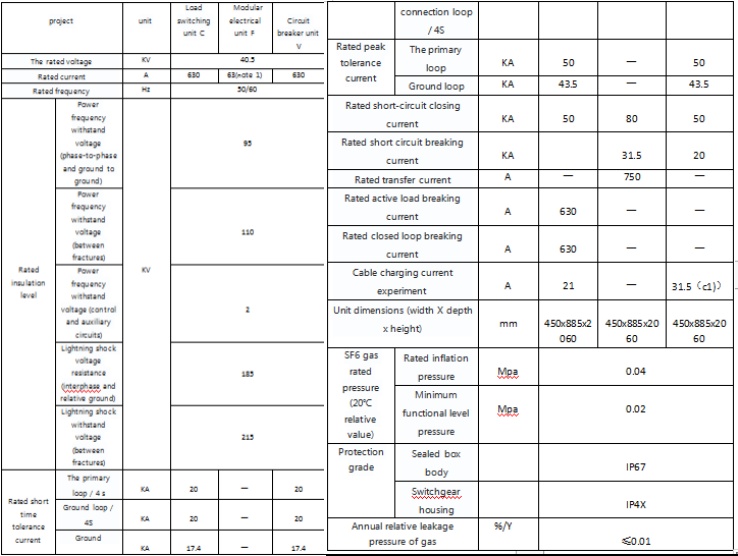 (Note 1) depends on the rated current value of the fuse
Cabinet put oneself in another's position structure
The gas-filled compartment is made of 3 ~ 5MM thick stainless steel plate, which is processed by CNC machine tool and welded by welding robot. The welding deformation is less and the air tightness is good. The other compartments are made of high-quality cold rolled steel plate, which is welded by CNC bending and has the characteristics of high accuracy and good strength. Each functional unit is an independent module, which is very convenient to assemble. Each sealed compartment of the SF6 gas insulated Ring Main Unit is equipped with an independent pressure relief channel to maximize personal safety and equipment operation.